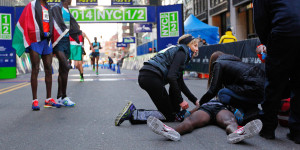 World champion Mo Farah of the 10.000 m went through all states during Sunday's half-marathon in New York. If the Briton ranked second at the end of a marathon won by Kenyan Geoffrey Mutai, he suffered throughout the streets of the American city.
After 2 Km, Farah suffered a fall. This did not prevent him from ending up second. But will have to dig deep from him.
Result: when he crosses the finish line, the Somalia-born collapsed and fainted. He was rushed to the hospital for care.
To be continued…