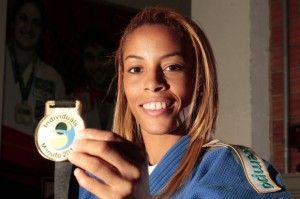 During the first day of the Grand Prix Judo Samsun, Taciana Lima starred in the -48kg category by winning the bronze medal.
Friday, Taciana Lima managed to climb on the third step of the podium -48kg at the Grand Prix Samsun. The representative of Guinea-Bissau flew over the preliminary rounds, eliminating turn by turn Moldavian Osoianu and Turkish Lokmanhekim. After losing a yuko to Maryna Cherniak in the semifinal, the African reigning champion won thanks to two waza-ari, the battle for 3rd place, facing Amélie Rosseneu.
The day was however less convincing for other African competing, Algerian Lyes Saker (-60kg) and her compatriot Ratiba Tariket (-57kg) losing in the knockouts while Fethi Nourine (-66kg) and the Tunisian Nesria Jlassi were being eliminated in the second round.