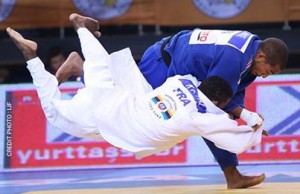 Moroccans Rizlen Zouak ( – 63kg ) and Asmaa Niang ( – 70kg) shined during the second day of the Grand Prix of Samsun, respectively winning silver and bronze.
Rizlen Zouak has not gone away from a feat on Saturday at the Grand Prix of Samsun. The – 63kg moved up to the final, where Austrian Unterwurzacher outperformed him. Previously, the Moroccan had managed a perfect day. 2 fights have been shipped in less than 45 seconds (the first round against the Israeli Shor, and a quarter against the Swedish Hermansson ). The second round was very well controlled by him with a win by yuko against Larisa Cherepanova . In the semifinals, the obstacle Szabina Gercsak would even be surpassed in less than three minutes. However, the last step was too high, and it is finally insured with money that the Moroccan will leave Turkey.
His compatriot Asmaa Niang was not unworthy either, rising on the third step of the podium – 70kg. The World No. 8 began the day by eliminating the local step, Esin Taskaya in less than a minute. The next round is the bronze medalist last Games Gevrise Emane who would bow, again by Ippon. The African reigning champion has been blocking the road to the final by Sally Conway. But she was able to recover to triumph over the Israeli Wildikan up 3 .
The Algerian Souad Belakhal ranked 7th in the -63 kg. After victories against Anna Bernholm and Kudret Elgilmez, national champion had to forfeit their quarterfinal r and recovery fighting that followed.
In the male side, the Egyptian Mohammed Abdelaal has been eliminated in the first round of – 81kg by the Portuguese Luz. Ghanaian Nartey (- 73kg) has meanwhile gone one more round before the road was blocked by the Swedish Macias.