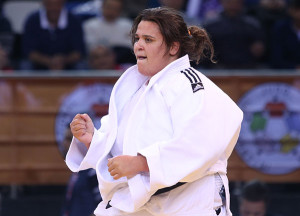 At the last day of the Grand Prix of Samsun, the Tunisian Sheikh Nihel Rouhou won gold in the 78 kg category. Tunisian, devoid of the 1st round took over the Turkish Kara during the quarterfinals. In the next round, the native of Sfax eliminated seeded No. 1, Sonia Altheman through two Yukos.
In the final, the 27 year old judoka won shortly after mid-fight, inflicting an Ippon to German Jasmin Kuelbs. In this same category, fellow Sahar Trabelsi was ranked fifth, as well as the Algerian Kaouthar Ouallal in-78kg. The Egyptian Ramadan Darwish failed in 7th place.
Hatem Abd El Haker (EGY/-90kg), Lyes Bouyakoub (ALG/-100), Bilel Zouani (ALG / 100 kg), Sonia Asselah (ALG / 78), Maisara El Nagar and Islam El-Shehaby (EGY / + 100kg), have meanwhile failed to qualify for the finals.