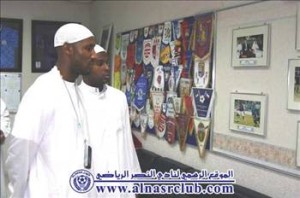 Will he play for Brazilian club Atletico Mineiro or not? Nicolas Anelka does not want to talk of that. At least not in Kuwait where he is since Monday, invited by the Kuwaiti Ministry of Religious Affairs to attend the fourth session of a meeting of young Muslims.
"I am in religious visit to Kuwait and I'm not going to talk about football," said the former player from West Bromwich Albion to reporters who asked him about the subject.
Converted to Islam, Anelka has criticized Western media of often giving a "distorted image" of this religion.
Tuesday, it is unclear whether Anelka is still in Kuwait or has left the country.
When he announced on the night of 5 to 6 April the commitment of Nicolas Anelka, the president of Atletico Mineiro has not yet seen the player in Brazil.