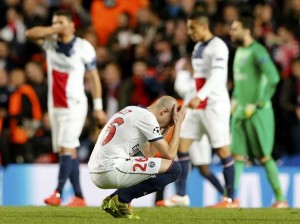 Paris Saint-Germain will have to wait to celebrate their second coronation as champions of France. Obliged to win for a party, the Parisian club could do better than simply sharing points with Sochaux (1-1) on Sunday afternoon as part of the 35th day of Ligue 1.
Cavani opened the scoring for the capital club in the first period and more specifically in the 24th minute. But the players of Laurent Blanc were surprised shortly before the hour mark on an own-goal by Thiago Silva (56th).
With 83 points, PSG enjoy eight units ahead of AS Monaco that can potentially deprive the capital club of title with three more days to play and nine points to distribute.