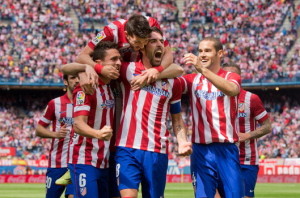 After their outstanding rise in the Champions League, Atletico Madrid do not decrease arms in La Liga. The Colchoneros are determined to win La Liga this season. And they have made a decisive step towards the title by winning Sunday afternoon on the grounds of Valencia with a goal from Raul Garcia.
Diego Simeone's men finished the game shorthanded following the expulsion of Juanfran for a tackle from behind on Piatti, but they managed to keep the score.
On La Liga table, the Colchoneros enjoy six ahead of Real (one game in) and seven on Barcelona who are moving to Villarreal tonight.