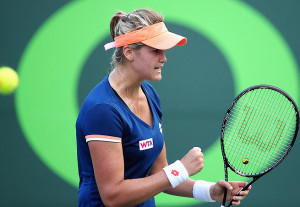 The curtain fell Sunday on the WTA tournament in Marrakech. Began on April 21, the Challenger tournament on the Moroccan clay ended with the finals that pitted the Swiss lady Romina Oprandi to Spanish Maria-Teresa Torro-Flor.
In three sets, 6/3, 3/6, 6/3, Flor Torro (World 71) dominates her WTA No.101-ranked opponent to clinch the trophy.
With the win, the 21-year Spanish won her first singles title and can lie on the Moroccan ocher surface. She also pocketed a prize money of $ 250,000 for the Grand Prix de Sar La Princesse Lalla Meryem.