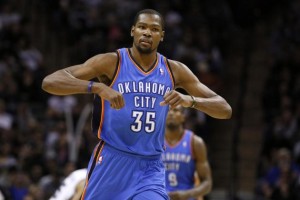 Top scorer of the season, including an impressive series of 41 games with at least 21 points, Kevin Durant has just reached one of his objectives: stop being the dolphin of LeBron James.
The winger of the Oklahoma City Thunder flew over debates in the regular season and has been unsurprisingly elected MVP, says ESPN. Over the season, he displayed 32 points to 50.3 % , 7.5 rebounds, 5.5 assists, 1.3 and 0.7 interception for 38.5 minutes in 81 games.
Qualified for the semifinals of the conference playoffs at the expense of Memphis after a big game alongside Russell Westbrook in Game 7 of the first round series, Kevin Durant still has a chance to dethrone the team of his friend LeBron James, whom he succeeded in ranking of MVP of the regular season, in the NBA championship. He must first negotiate well the series in the West including those of the semis.
The new MVP of the regular season will receive his trophy in Game 1 of the second round of the playoffs opposing OKC to Los Angeles Clippers.