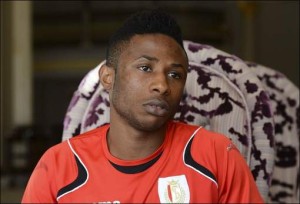 Stephen Keshi has ruled. As announced Africa Top Sport, the coach of Nigeria announced on Tuesday an initial list of thirty players for the 2014 World Cup.
If Peter Odemwingie (Stoke City) is back in the Super Eagles, one can notice the absence of Imoh Ezekiel. The Standard Liege striker must be very disappointed. After the failure suffered for his naturalization in Belgium, the Nigerian had eventually accepted the call of his coach, Stephen Keshi .
Yet the player had an excellent season in the colors of Standard. He is author of 11 goals and 9 assists since the beginning of the current year in the Jupiler Pro League. Ezekiel, however, made the trip to the USA in a friendly match against Mexico last March. He seemed to be well positioned to participate in the great world appointment to be held in a month hence.
Although the competition was fierce among Eagles, notably with Peter Odemwingie, Victor Moses and Emanuel Emenike, it must still be a big disappointment for Imoh Ezekiel who, in addition, has lost his starting spot in the Rouches. This probably played against him.