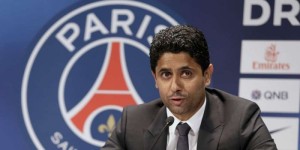 And two! PSG logically won last Wednesday night their second championship of France at the Parc des Princes despite a 1-2 loss to Rennes.
Nasser Al-Khelaïfi, president of PSG could not hide his joy:  "I am very happy tonight. I was already before the game because we were already champions. I am very proud of my team because it has not been an easy season. I am pleased with the results, but also the quality of the game this year, we play better football.
 Of course I would have preferred to win the match. I understand the concern of motivation, because we were champions beforehand. I keep saying the same thing. Laurent Blanc stays here with us.
I listen to the media, but nothing will stop our dream, our project. We continued. Nobody is going to stop us. "