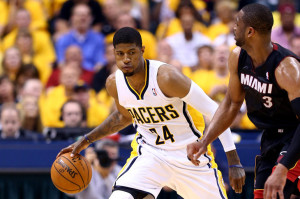 Indiana Miami forced a sixth game in the final series in the Eastern Conference. Led by Paul George (37 pts, 6 rebounds, 6 steals and 2 assists), the Pacers have emerged last night at Bankers Life Fieldhouse, 90-93 and made it 3-2 facing Heat.
Obliged to win this match to stay alive, Indiana dominates the first act, 22-16. LeBron James found the bench after his second foul. Chris Bosh (20 points, 10 rebounds) and Dwyane Wade (18 pts, 8 rebounds, 7 assists) take responsibility. Backed by Ray Allen (15 points), they did the job in the second quarter time. After a series of 2-15, the Heat went to the break with a 9-unit advantage.
At resumption, the Heat thanks to Rashard Lewis (18 points 6/9 behind the arc) kept the lead. But on a stolen ball by Lance Stephenson (15 pts, 5 rebounds, 5 assists and 2 steals) out of the hands of LeBron, the men of Frank Vogel raged and resume match commands at the start of the last quarter time, 64-57. The Heat, who had never lost in the playoffs after leading 3-1 for 4 years melted like ice in the sun with 11-point adrift of the Pacers. From 77-66, the score is reduced to 91-90 at only 16 seconds of the end thanks to D- Wade and Bosh. Author of 21 of his 37 points in the last twelve minutes Paul George has assumed his role as leader of Parcers well assisted by David West (19 points, 9 rebound) who seals the end of the game on the free throw line. Also note the double-double of Roy Hibbert (10, 13 rebounds) who caught five balls in the last quarter. Final score 90-93 at the expense Lebron and co.
Author of an amazing 7 points to 2/10 in 24 minutes, his lowest career scoring in playoffs – LeBron James has been limited by fouls(5). With the win, Indiana offers a new trip to Miami hoping to send the series to Game 7.