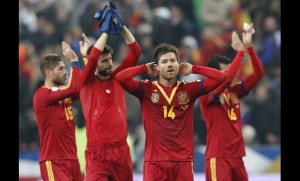 FIFA has released this morning its June rankings of national teams. Spain maintains its top spot on the world map. La Roja is followed by Germany. Brazil snatched 3rd place from Portugal a few days ahead of the World Cup. Argentina closes the top 5.
Switzerland, Uruguay, Colombia, Italy and England respectively rank 6th, 7th, 8th, 9th and 10th.
No African country in the top 20.
The Global Top 20
1. Spain
2. Germany
3. Brazil
4. Portugal
5. Argentina
6. Switzerland
7. Uruguay
8. British
9. Italy
10. England
11. Belgium
12. Greece
13. USA
14. Chile
15. Netherlands
16. Ukraine
17. France
18. Croatia
19. Russia
20. Mexico