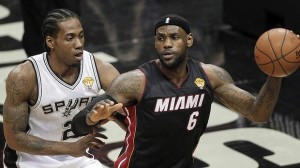 Miami left San Antonio with a victory. Bothered by a cramp in the defeat of Game 1 of their NBA Finals, LeBron James blew hot at the AT & T Center (35 points, 10 rebounds and 3 assists) to bring his franchise at the height of Texans. Despite 21 points and 7 assists by Tony Parker and 18 points and 15 rebounds by Tim Duncan, the Spurs have relented late in the game, 96-98.
Just like a quarter of LeBron James in the first quarter time, the Heat seemed frozen by the Texans air-conditioner that works back to full speed. San Antonio quickly took control with a 14-8 thanks to a great Duncan in the paint. 26-19 at the end of 12 minutes. The gap rises to 11 in the second act (30-19). Time chosen by King James to put the defending champion in battle. Author of 13 points and 7 rebounds in the period and well supported by Dwyane Wade (14 points, 7 rebounds, 4 assists), he brings the two franchises to the break on a tie, 43 everywhere.
In the second half the shooters come out, scoring gallops. James, in particular, meets the Spurs 78-77 at the start of the last act. Boris Diaw (7 points, 10 rebounds, 5 assists), TP, Ginobili (19 points) cannot enroll for a second consecutive time, men of Erik Spoelstra. LeBron James serves a caviar to Chris Bosh (18 points) who found the target of an award-winning shot at only 78 seconds remaining. Miami won for the 13th time in a row after losing in the playoffs and await Texans in their own room for Game 3. A movement that will be difficult for Parker and co given that the Heat did not lose any match in their den since the start of the playoffs.