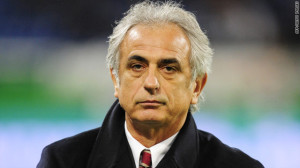 Arrived Sunday in Brazil, Algeria tackles the last corner of their participation in the 2014 World Cup (June 12-July 13). Serious things begin for Fennecs on June 17 with their entry into competition against Belgium. Four years after a brief spell in South Africa, Algeria this time intends to play the second round.
Coach Vahid Halilhodzic of Greens wants a competitive team and ready for the challenge. Reason why the Bosnian coach keeps re-engaging his group notifying them that nothing is settled yet.
"Now, things are almost clear, the competition arrives and be sure that I need everyone. We have 3 big games to play, and I want each of you to be willing to answer this mentally and physically every time I make an appeal," he said, adding:" The games coming have nothing to do with Romania and Armenia, this is another level. I know there will be problems to be solved by then and I want everyone to stay focused to fulfill his task as it should when making his entrance. With me, there is no team, everyone can play."

Halilhodzic has not also failed to deliver his ambitions for the Brazilian edition. And in a group that appears balanced with the presence of Russia, Belgium and South Korea, the Desert Foxes have every intention not to return home in the first round.
"We came here to survive in the group stage. We worked hard to get there. Everything leads me to believe that the team is ready to compete in the World Cup. We are here to do something and try to leapfrog the first round. Now, is the team able to do it? It's hard to say."