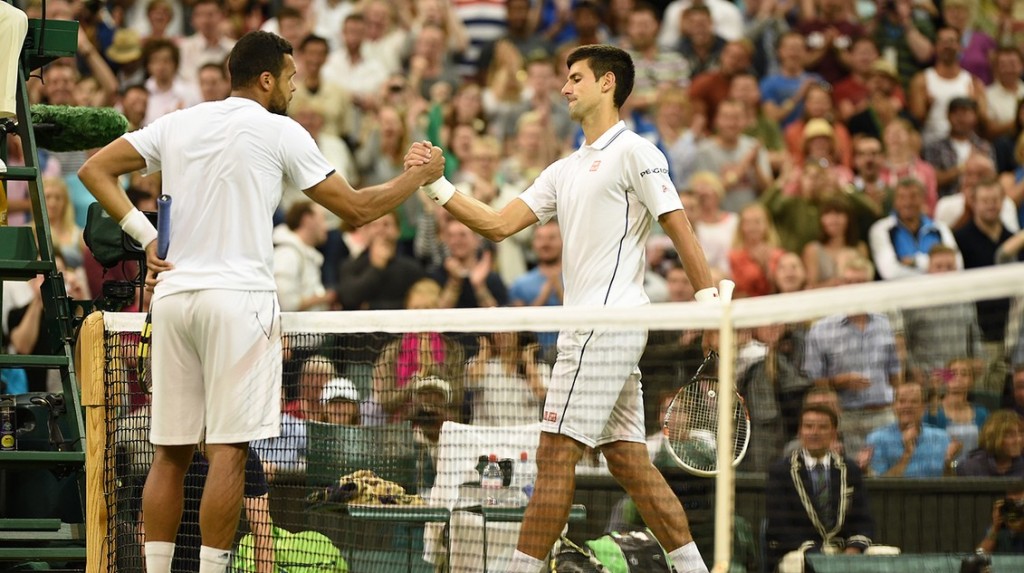 The series continues between Jo-Wilfried Tsonga and Novak Djokovic. For the 11th time in a row, the World No. 2 emerges victorious from his confrontation with the French No. 2. On Centre Court at Wimbledon, Monday, Novak Djokovic defeated Tsonga. French (17th ATP) was released by the seeded No. 1 Novak Djokovic in three sets, 6/3, 6/4, 7/6 [7-5].
Tsonga suffered blows from the Serbian winner in the first two sets before pushing him to the tie-break in the third set. At 4 everywhere Jo could not achieve his two breaks and thus leaves the grass of London. "I do not know if we can talk about regrets. If I regret anything, it is not being able to go respond even once in the tiebreaker. Otherwise I do not have much to regret. He has generally very well served, before being a little troubled in the third act but he has very well reflected in the tie break," analyzes the French who has not experienced the joy of victory against Nole since January 27, 2010 (exception on withdrawal in November 2011).
"I'm obviously disappointed but with hindsight, I think it is positive. I found a good feeling, says Jo who had suffered before Monday, a severe defeat at Roland Garros. Even if I do not win, things are going in the right direction. This game makes me want to get quickly back to training as of tomorrow. I will now focus on the U.S. Open. It is important to me, because I do not have many points to defend."
Before the U.S. campaign, Novak Djokovic continues his conquest of a second Wimbledon title after 2011. He will face in the quarterfinals Croatian Marin Cilic who defeated Jeremy Chardy.