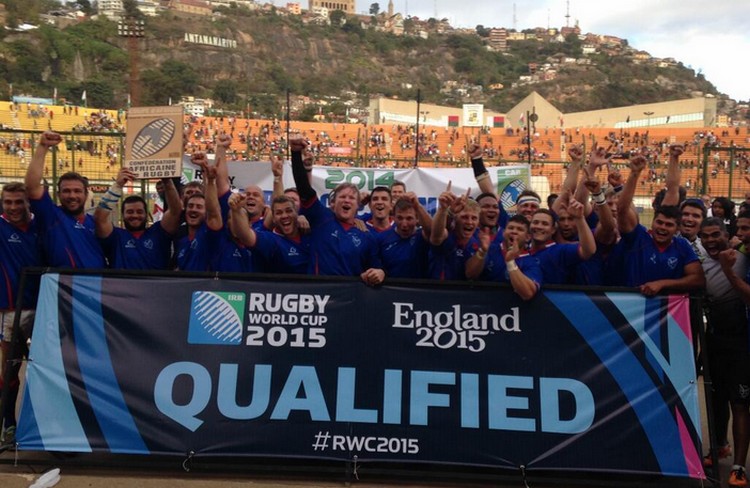 Namibia moves past Kenya and Zimbabwe to qualify for the World Cup of Rugby, England, 2015. Leading the qualifiers to tournament in Africa before the last day, Kenya has seen its dream of a first participation to the world Cup fly after defeat (28-10) to Zimbabwe. The Zimbabwean selection virtually in England after this victory have been doubled by the Welwitschias of Namibia who atomized Madagascar, 89-10 (63-00, score at half-time). Taking advantage of a better goal difference, Namibia compost the ticket for their fifth final phase of rugby World Cup in a row.
The Welwitschias therefore join South Africa whose group has been complemented by Japan at the World Cup and are found in Group C with New Zealand (world defending champion), Argentina, Tonga and Georgia.
Second in the qualifiers played at the Municipal Stadium of Mahamasima (Madagascar), Zimbabwe could still be at the World Cup. They will then have to win the recovery tournament to start in August. The task looks cold because they will face Russia in Siberia in the semifinals. The other semi opposes Uruguay to Hong Kong. The winners will compete in round-trip (late October and mid-October) for the award of the 20th ticket.
Madagascar qualifiers tourney results
1st day
Kenya – Namibia 29-22
Zimbabwe – Madagascar 57-22
2nd day
Namibia – Zimbabwe 24-20
Kenya – Madagascar 27-0
3rd day
Namibia – Madagascar 89-10
Zimbabwe – Kenya 28-10
Final rankings
Namibia first 10 points (+76)
Zimbabwe second 10 points (+49)
Kenya third 10 points (+23)
Madagascar fourth 0 points