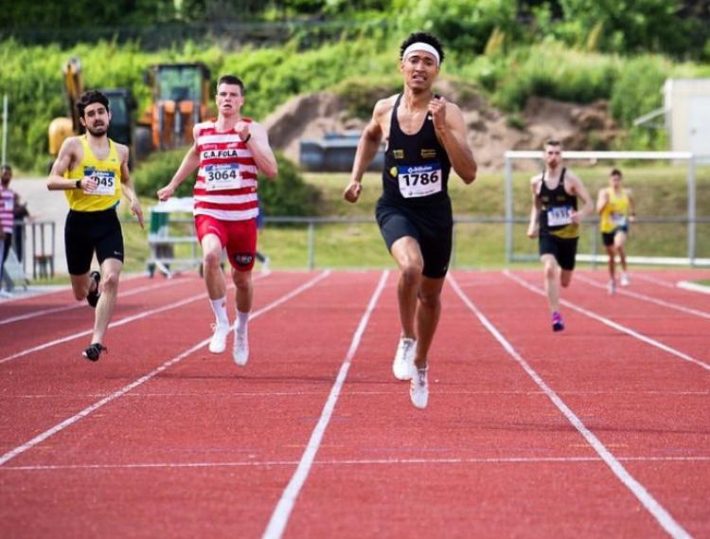 Like his brother David Henen (footballer), Samy Henen chose Togo as a sports nationality. At 25, he decided to put his athletic talent to the benefit of his mother's nation. Aligning with the 400 and 800 m, he has very big ambitions and has the next Olympic Games in his sights.
Guest of the talk show on the Whatsapp platform of the Association of Togolese Sports Journalists (AJST) last Friday, Samy Henen answered several questions about his young career. Among others, the choice of Togo and its objectives.
Why athletics?
SH : I started athletics at school. All the schools in the region were grouped by age category and to my happy surprise I finished first. It's something that motivates me since I was 12 years old.
The 400 and the 800 m
The 400 and the 800 simply because these are disciplines in which you have to suffer and if you have no mind, you have no place there. I take the example of several people. Someone was injured and returned in great shape before lockdown. Never let go. To tell ourselves that we are our own limits, through that I think it is an example for me like many other athletes older or younger than him.
The choice of Togo
I chose the selection of Togo because we do not show enough. And I'm hungry, I want to show as many things as possible and make myself known. Not through David, but Samy Henen. There is the motivation of the heart on this choice. I love my country of origin. I feel as much Togolese as Belgian and as Belgian as Togolese. From where I made the decision to make my Togolese passport, discussions took place with my brother David. And together we decided to go towards this beautiful project knowing that it is not an easy choice as many might think. Because we were both Belgian internationals. There we let our hearts speak and asked a lot of advice from our mom and people in Togo.
The trigger happened two years ago now. I was the national champion of a country I do not represent. So I train in Luxembourg, a country neighboring Belgium. I was national champion this winter in the 400 meters, I am on the podium. I got on the podium with the flag of Togo.
His goals
Togolese athletics was very well represented at the Munich Olympics 47 or 48 years ago now. I want to talk about my disciplines: the 400m or the 800m. A record that dates back a very long time. Honestly I want to compete in Togo. Do my utmost to write my name in the history of Togolese athletics and represent the colors of the country as well as possible.
Of course I have big goals which did not change when I decided to run for Togo. First it's good to be able to write your name. This is also why in the various articles that there have been in Belgium, I decided to attack the national record of 800 meters. I'll continue to work, train hard and the rest will tell us how it's going to be.
His brother David, footballer
David combined the two disciplines from 11 or 12 years old. We competed in 25 races when we started track and field and David was first too. Once he was first and I was second. And for a whole year our dad followed us through various competitions all over Belgium.
Having gone through athletics has brought a lot to David. After, as I always say, speed, whether you have it or not, you have to work on it. David has done it and he has a good change of pace on his first presses. You could see it's pretty fast.