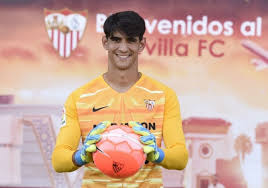 Specialist in competition (5 trophies), FC Seville qualified at the beginning of the week for the semi-finals of the Europa league. A victory with a clean sheet including a penalty stopped by goalkeeper Yassine Bono.
Winning 1-0 ahead of Wolverhampton, the Spanish club has not conceded goals in 512 minutes. It's been 12 years since the club had known such longevity without taking goals.
The defence of Seville is a real wall this season. With 8 losses so far, it is also 50% of games without taking goals in 52 encounters. This performance is partly due to Bono.
The Moroccan started in goals keeping against Athletic Bilbao. Club against which he took a goal after 28 minutes. Since then, he hasn't conceded goals in 512 minutes, including 5 consecutive matches. Mallorca, Real Sociedad, Valencia, AS Roma and Wolves.
Moreover, the record for the longest time with a clean sheet in the club belongs to Andres Palop (780 minutes) between 13 September and 23 October during the 2008-2009 season.