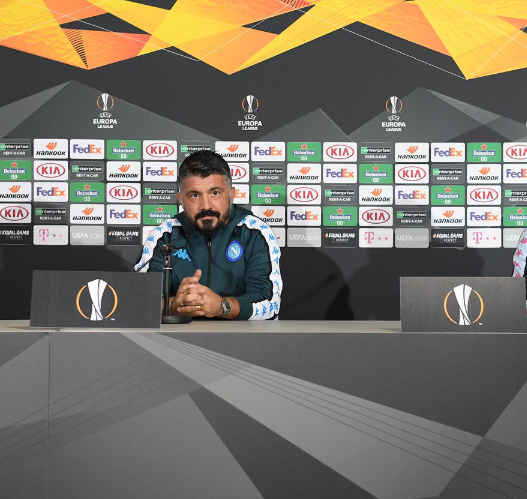 Napoli manager Gennaro Gattuso has urged his player to give continuity to their performances following their 2-1 come back win against Rijeka in Thursday's Europa League.
Napoli secured their second win in the competition with an away victory in Croatia.
The Nerrazurri trailed 1-0 just 12 minutes as Robert Muric put the host in front.
Diego Demme equalized for Napoli two minutes to the first half break.
A Filip Braut own goal turned the tide on it's tail for Napoli as the game ended 2-1.
Gattuso while analyzing the game said his side took a big risk and was furious with their ineptitude to kill off the game.
"We took a really big risk, I'm angry . " Gennaro Gattuso severe but also rational after the success in Fiume.
"We knew very well that up front we would find a very tough team to face. 
"But despite what we had said with the boys before the match, I saw an approach that I didn't like at all."
"In the first half hour we had a bad time, I don't know, we looked like we were on a trip. 
"It took time to wake up. It is probably my fault, I was unable to convey the right attention, but I repeat that I am very disappointed with this attitude".
"In the second half the pace was bad, we deserved the success. 
"But these ups and downs are not admissible. It is a problem that this team has had for a long time, even before my arrival, and this aspect must be resolved."
"If a game turns bad for you, then you don't always manage to overturn it like tonight. 
"Surely we were good at reacting and this is a merit that I recognize from the boys. 
"But I expect a lot more from many points of view".
"We have to give continuity to our performances because the potential is there, we need to have mental and character growth. 
"We have great qualities, but it must also be accompanied by the right mentality, always."