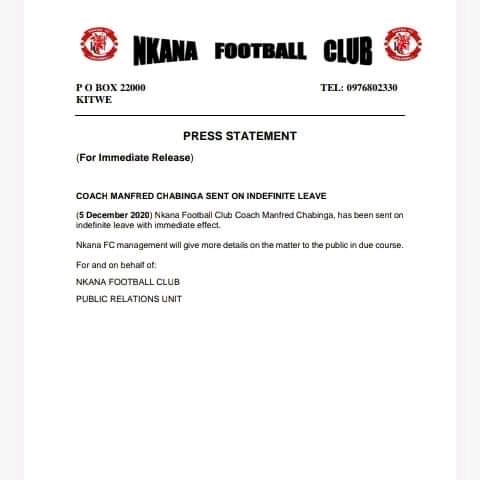 Zambia Super League champions Nkana FC have suspended their coach Manfred Chabinga indefinitely.
The suspension letter reads: "Nkana Football Club coach Manfred Chabinga has been sent on an indefinite leave with immediate effect. Nkana FC management will give more details on the matter to the public in due course."
The most successful league club in Zambia did not state the reasons for Chabinga's suspension.
However, Nkana suspended the coach a day after they progressed to the next qualifying round of the CAF Champions League.
Nkana drew 0-0 against visiting Bantu FC of Lesotho at Nkana Stadium in Kitwe, Zambia, on Saturday December 5 2020.
The Zambians sailed through on an away goal rule, having won away 1-0 courtesy of Idris Mbombo goal in the preliminary round, first leg match.