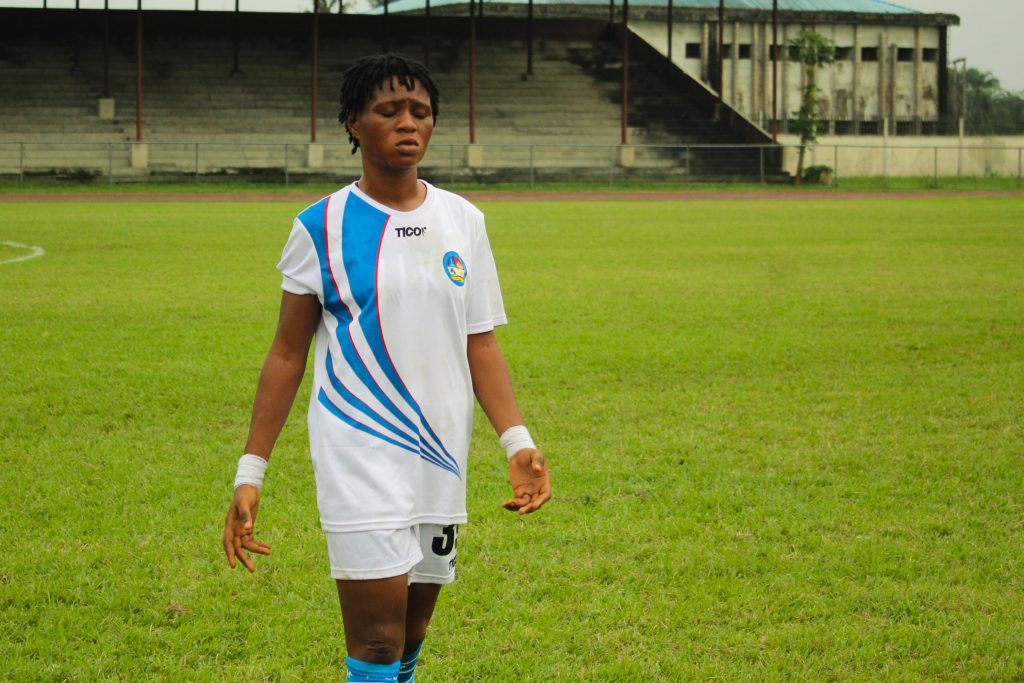 For the second consecutive time Delta Queens player, Odubanjo Dominance made the Nigeria Women Football League (NWFL) Premiership team of the week.
Dominance was on the scoresheet for Delta Queens who suffered a 6-2 defeat to champions Rivers Angels at the UNIPORT Sports Complex on week 2 of the NWFL.
The former Jokodolu striker was starved of passes and the one through pass she got, reduced the deficit for Delta Queens to 3-1 in the first half of the encounter.
The NWFL released the  team of week via the official website after an intriguing week 2 games played on Wednesday.
Week 2 games recorded 21 goals with two away wins, four home wins and a draw between Pelican Stars and Ibom Angels in Calabar rounded off a mid-week of fun and excitement.
Bayelsa Queens are the best represented Club in this week's team, with a precious away 2-1 win at the Lafia City Stadium on Wednesday and they are being rewarded with three selections.
Here is the NWFL Premiership team for week two.
Monle Omini (Bayelsa Queens)
The former Tokas Queens, Abia Angels and Confluence Queens goalkeeper enjoyed a very impressive debut for Bayelsa Queens. She was commanding in her box and was also key to helping her side build up from the back.
The 'Restoration Ladies' manager, Moses Aduku decided to use Monle ahead of number one goalkeeper Onyinyechi Okeke and it really did pay off.
Glory Edet (Confluence Queens)
Edet put in another outstanding display for Confluence Queens against Sunshine Queens in Akure. Though Edet ended up on the losing side, but everything good went through her as far as the 'New Direction' Ladies' are concerned. She played a crucial role in her side conceding less goals and was a constant threat with her energy and reading of the game. A real talent.
MIRACLE JOSEPH, BAYELSA QUEENS (LEFT BACK)
The former Ibom Angels defender did excellently well in the absence of regular Uzoamaka Igwe. She acted well making sure Nasarawa Amazons forwards had no much breathing space upfront and also linking up well with those ahead of her to great effect.
ONYEBUCHI GOODNESS, SUNSHINE QUEENS (DEFENSIVE MIDFIELDER)
The Sunshine Queens Captain brought stability to the midfield, supporting Suliat Abideen, while she also looked to carry the ball forward and continually acted as the link between the Midfield and the attack. She finally got rewarded in the game, as she doubled Sunshine Queens lead in the 59th minute.
UGO NJOKU, RIVERS ANGELS (CENTRE BACK)
Ugo Njoku finally got off the mark in the NWFL Premiership for Rivers Angels for the first time in almost two seasons and she did so in style.
When the teams were announced and Njoku was included by Edwin Okon to play at the Centre-back against Delta Queens, many thought the 'Okowa Ladies' would target her and potentially get a fair amount of success doing so, but it wasn't really the case, as she was calm on the ball and showed alot of experience and didn't look like someone who hasn't played in like two years because of injury.
BECKY AJADI, ROYAL QUEENS (CENTRE BACK).
Ajadi was everywhere on wednesday as Royal Queens defeated Abia Angels 1-0 at the Warri Township Stadium. She was firm at the back and often didn't allow Jane Abraham and others to go past her. The former Saadatu Kolo Amazons Captain was voted player of the match.
BRUME IKHEKUA, RIVERS ANGELS (FORWARD).
Rivers Angels forward was everywhere against her former side Delta Queens, the striker scored a brace and assisted Maryann Ezeanagu to score another. The young striker was topscorer for Delta Queens in 2019 and has started well in her new abode, Rivers Angels.
ANJOR MARY, BAYELSA QUEENS (FORWARD)
Anjor Mary is outrageously a good footballer, the 2019 NWFL Premiership player of the season gave a good account of herself against Nasarawa Amazons in Lafia and scored the first goal, just as she did a year ago at the same venue.
DOMINANCE ODUBANJO, DELTA QUEENS (FORWARD).
Three goals in two games put the young striker ahead of others in this position. She scored against Rivers Angels in 24th minute. Though her side lost by 6-2, the former Jokodolu Babes striker has found form and time will tell if she is going to continue that way. Great talent.
ANUOLUWAPO SALISU, DREAMSTAR LADIES (CENTRAL MIDFIELDER).
Two games, two losses, but Anuoluwapo Salisu has been the shining light in her side this season. The young midfielder produced arguably the standout individual performance in the game against Edo Queens at the Agege Township Stadium.
She would be looking forward to getting it right this time around, when they visit Abia Angels in Umuahia on matchday three.
MONDAY GIFT , FC ROBO QUEENS, (FORWARD)
The former C.O.D Ladies striker grabbed herself a hat-trick against familiar foe Osun Babes at the Legacy Football Pitch, Surulere, Lagos.
Gift is reaping the rewards for the hard work she continues to put in to improve on her finishing and positioning. Staying more centrally, the striker poses a much greater threat and this showed against Osun Babes as she netted the first hat-trick of the 2021 NWFL Premiership season.