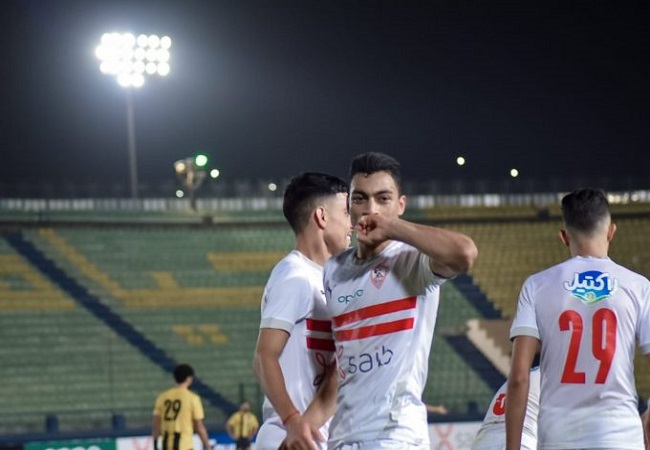 Egyptian Premier League giants, Zamalek have decided to halt all negotiations with French side Saint-Etienne for Mostafa Mohamed's transfer.
Mohamed has been in serious link with a move away from Zamalek. For a while now, several European sides have expressed their interest in the forward.
And for the 23-year-old striker, Saint-Étienne is his preferred destination. Several recent reports confirmed that he could complete a move to Les Verts this month.
However, Saint-Etienne president claimed that some Zamalek representatives asked for commissions if the transfer wasn't completed, without a shred of evidence. This statement angered the Whites board who have decided to halt the deal. And they threatened to make any legal procedures against him.

"Firstly: Zamalek rejects in any way any offense or attempt to defame any of its affiliates. Who are known with transparency and credibility.
"Secondly: The club unequivocally rejects the threat contained in the aforementioned statements of disclosing the names of those who requested to get commissions in the event that the deal was not completed."We ask Saint-Etienne officials to immediately disclose these names, in compliance with the rules of integrity and transparency that must be applied.
"Third: In this context, the Zamalek announces the cancellation of negotiations regarding the transfer of the player Mostafa Mohamed to the French club Saint Etienne. Out of respect of the the club's entity, as well as its broad, fans everywhere who do not accept such matters.
"Which contradicts the values ​​and principles of our historic club."Finally: Zamalek is currently taking the necessary legal measures regarding this issue. Preserving moral and ethical rights.
"In attack of their defamation and offense to some club officials. The club will immediately announce all the information that has been disclosed and deal with it." Zamalek wrote in their statement.
Turkish giants, Galatasaray, are now favorites to sign Mostafa. As they have explicitly shown in interest in signing the 23-year-old.
The club want to replace their striking duo, Radamel Falcao and Mbaye Diagne, who have been in very poor form. The Red and Gold are looking to add some young blood and Mostafa Mohamed is their prime target.