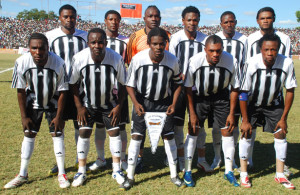 Chabab Riadhi Belouizdad (CRB) has dispelled reports suggesting that the Algerian side was ill-treated while in the Democratic Republic of the Congo over the weekend.
CRB were in Congo for a CAF Champions League group stage game against TP Mazembe. The game ended goalless on Saturday.
In a statement, CRB set the record straight on what really happened during the game against Mazembe.
"CRB officials assure that no member of the delegation was the victim of theft or acts of violence on the part of the representatives of TP Mazembe who lived up to this sporting event throughout the stay of Belouizdadis on Congolese soil," the statement reads.
CRB downplayed a clash that "occurred during the second-half of the match was caused due to a discrepancy between some members of the delegation and persons outside the flagship club of Lubumbashi."
"In addition, an attempted theft of cellphones for the director of the Performance Department, Mr. Taoufik Korichi in the locker room is to be indicated; same fact confirmed on the person in charge of communication present in the stands.
"This press release aspires to reassure the large family of Chabab and certifies that the entire delegation has joined the country safe and sound this [Monday] morning and has not been the victim of theft or aggression," the statement adds.
Mazembe has since said it choose to remain silent when such rumours emerged on the internet.
"The accusation was to be placed in the "lies and slander" department when we know how much the Congolese club makes a point of honor to reserve a quality welcome to its opponents. And finally, the Algerian club itself reacted, with promptness and elegance by saluting the impeccable attitude of TPM," Mazembe says.