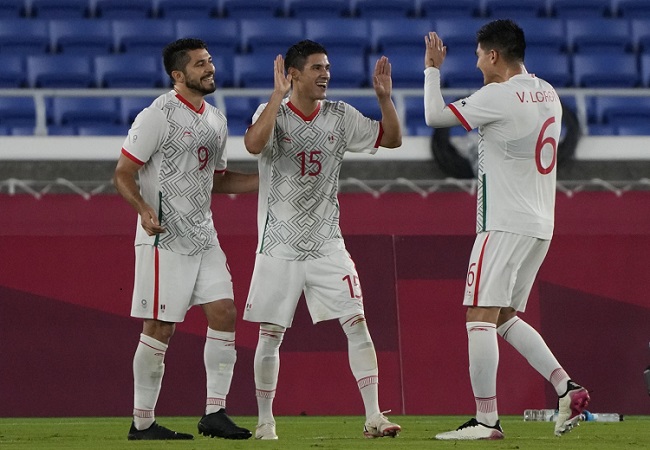 Mexico thrashed South Korea 6-3 to secure spot Tokyo Olympic men's football semi-finals. Two Mexican players grabbed a brace each, while Lee Dong-gyeong had both of the South Korean goals in the crushing loss at International Stadium Yokohama in Yokohama, south of Tokyo on Saturday.
South Korea controlled the run of play in opening minutes but Henry Martin scored first in the 12th minute for Mexico.
Lee Dong-gyeong levelled the score eight minutes later. But then it was all Mexico the rest of the first half. The Mexican midfielder Romo received a perfect pass without breaking his stride and struck it past Song to put Mexico up by 2-1. Sebastian Cordova converted a penalty in the 39th minute to make 3-1 for Mexico.
South Korea coach Kim Hak-bum made three substitutions to start the second half with the hope to swing the pendulum back in his team's favor.
And Lee Dong-gyeong breathed life back into South Korea with his second goal of the match in the 51st minute. But hopes of a comeback were further dashed just three minutes later, when Martin headed in his second goal off a free kick taken by Cordova and restored a two-goal lead for Mexico.
Cordova picked up his own second goal in the 63rd minute to give Mexico a 5-2 cushion, thanks to a feed from Vladimir Lorona.
Second-half sub Eduardo Aguirre rubbed it in on South Korea with an 84th-minute goal that made it 6-2 Mexico.
Hwang Ui-jo scored a meaningless goal for South Korea during second-half injury time.
Also Read : TOKYO 2020 : HOSTS JAPAN BEAT NEW ZEALAND ON PENALTIES TO MEET SPAIN FOR THE SEMIS
Once again, the Olympic Games is preparing a match between the tricolor and the green-and-yellow team, two teams that constantly face each other in definitive matches.
The match will take place next Tuesday, August 3 at 08:00 GMT.