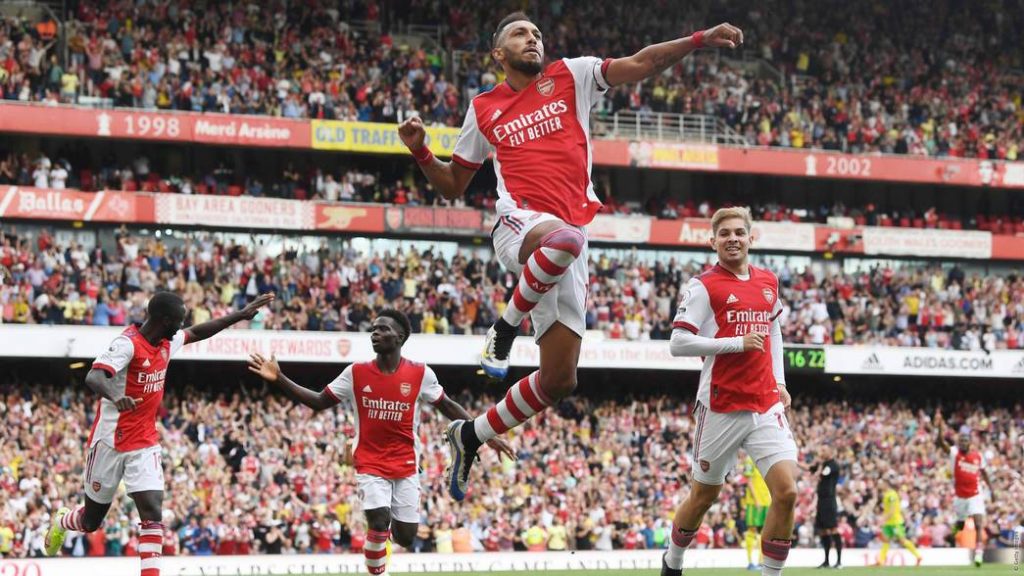 Gabon captain Pierre-Emerick Aubameyang has said he is happy to have scored and helped Arsenal end a three-game winless run on Saturday afternoon.
Aubameyang scored from close range for Arsenal to see off equally struggling Norwich City at Emirates Stadium.
In a post-match interview with Arsenal website, the Gunners skipper could not hide his happiness.
"When [the fans] are here, you feel them. This is a great feeling and we are happy today to win this game. We have needed the fans for a long time. Personally, I'm just happy that they are here," he is quoted saying.
"I think it was a tough game but everyone gave everything on the pitch. Maybe we could be more clinical, because we had a lot of chances at the end, but the most important thing today is three points – and we did it."
The win gave the Gunners coach Mikel Arteta relief after having started the season with three consecutive heavy defeats.
In a post-match interview with Arsenal official website, Arteta described the game as emotionally draining.
"Emotionally it was a very tough game to play, after the three defeats, playing here in front of your crowd," he is quoted saying.
"It was a must-win game and I saw [us] straight away come out of the blocks really quickly, really aggressively, wanting to score and please everybody. We had a period after 20 or 25 minutes where we started to [look] a little bit shaky, trying to attack too quickly and giving the ball away. It was an open game. In the second half, we took control of the game again and we should have scored many more. Now we were up and running."
Arsenal have since jumped from the foot of the table to 16th place following the win over Norwich who are now bottom after going four games without a win.