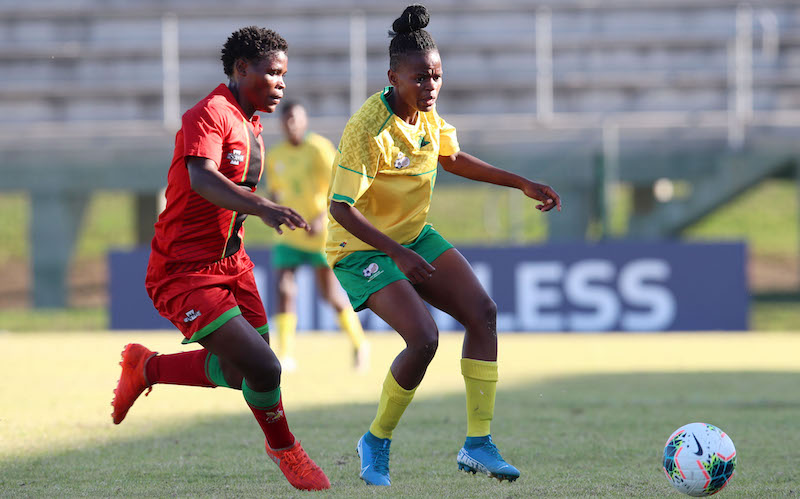 South Africa's Banyana Banyana started their Cosafa Women's Championship title defence with a home 2-1 win over Malawi's Scorchers on Tuesday afternoon.
Melinda Kgadiete and Noxolo Cesane scored in the first half for the hosts before Wezzi Mvula pulled one back for the Malawians at Nelson Mandela Bay Stadium.
Kgadiete scored for South Africa barely after three minutes into the match in Port Elizabeth.
Thereafter, Cesane added the second goal for South Africa in the 37th minute.
In reply, Mvula scored on the dot of full-time to bring some respectability to the scoreline for Malawi.
Banyana Banyana lead the pack on three points followed on one point each by Angola and Mozambique whereas Malawi are bottom.
In an early kick-off at the same venue, Angola came from behind twice to force a two-all draw against Mozambique.
Albertina Pondja scored the opening goal for Mozambique in the 22nd minute.
With five minutes to full-time, Angola got the much needed response as they levelled matters through Zeferina Caupe.
In the 78th minute, Mozambique restored their lead when Lucia Mocambique scored.
However, the Angolans could not afford a losing start to the tournament.
They pulled themselves level again this time around the scorer was Yara Lima.
Malawi starting XI: Samir Amidu, Chimwemwe Madise, Patricia Nyirenda, Ruth Nyirongo, Ireen Khumalo, Madyina Nguluwe, Zainab Kapanda, Wezzie Mvula, Asimenye Simwaka, Sabina Thom, Fazila Chembekezo
Substitutes: Mercy Sikelo, Ruth Mhango, Tionge PHIRI, Emily JOSSAM, Mphatso GONDWE, Lyna JAMES, Chikondi GONDWE, Carolyne MATHYOLA, Limbikani CHIKUPIRA
Group A next fixtures:
October 1 2021
Malawi v Mozambique @12:00 noon
South Africa v Angola @ 3:30pm