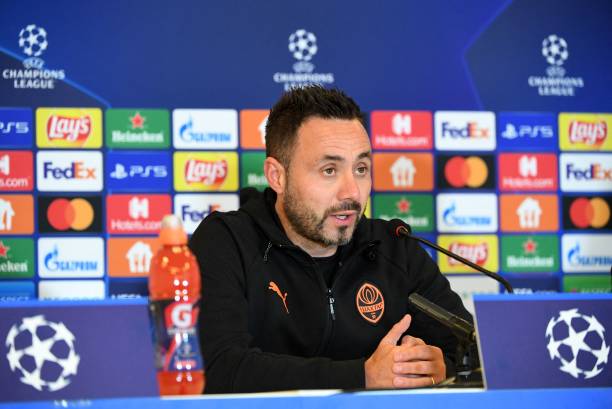 Shakhtar Donetsk put in a very solid performance against Inter Milan in Ukraine to pick their first point.
Both teams headed to the game on the back on the defeat from the opening Group D games.
Shakhtar suffered a 2-0 loss to debutante, Sheriff in Moldova while Inter Milan lost 1-0 to Real Madrid in San Siro.
Both teams needed the victory but ended sharing the points with Inter Milan failing to make their possessions count.
Shakhtar manager Roberto De Zerbi, expressed delight over the result.
speaking in his post-match conference, De Zerbi said; "We created a lot of chances to score, and overall my players gave an impressive performance.
"The entire team team played excellently so I don't think we have to highlight just Pyatov tonight."
"I think Inter had a stronger mentality than us.
" Even when Shakhtar had more possession of the ball, Inter were patient and created problems for us.
" It shows how strong they are in terms of mentality and I think we can be satisfied with this draw."
"I think both teams played some great football. [Following Traoré's substitution] Pedrinho had to play as a striker and he put some incredible performance, so did Tetê.
"Who knows what result we would have got with Traoré on the pitch.
"It's such a pity that he suffered this difficult injury.
"It's always pity when such young and talented players get these kinds of injuries."