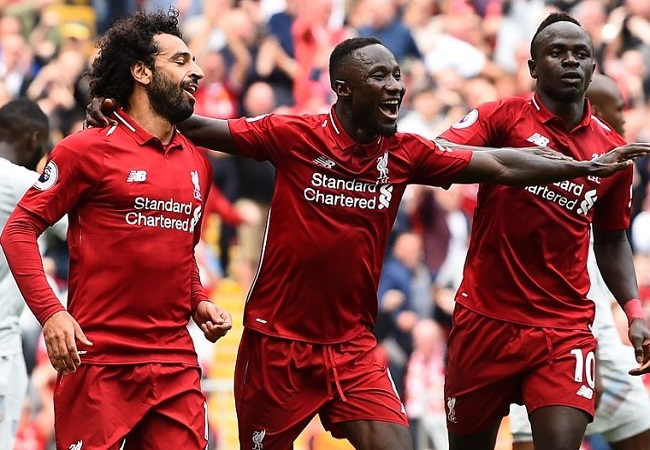 Liverpool assistant manager Pepijn Lijnders has challenged the Premier League team's African stars to win the Africa Cup of Nations (AFCON) title in Cameroon with their respective national teams.
"I just told the boys as well that Naby, Mo and Sadio: that they should try to win the AFCON because it is a prize to catch and the careers are never long and they deserve to fight for each prize," he told Liverpool website in a post-match interview after the two-all draw with Chelsea.
"This prize now comes in front of them – it's a tournament with so much passion, so much culture and it is a really proud situation if you can play for your country, if it's England or Germany or Holland or whoever and that's what they have and feel. So they are African legends, they are legends for me, but if they win it they will probably be even bigger legends so they should try with all they have to win it."
Lijnders was in charge of Liverpool in the absence of Jurgen Klopp who tested positive before the league game which ended 2-2 against Chelsea on Sunday evening.
Liverpool featured Guinean midfieldef Naby Keita, Egyptian forward Mohamed Salah and Sadio Mane from Senegal.
Sunday's league game was the last for the trio before they participate in AFCON from January 9 to February 6.
Lijnders said while they would miss the services of the trio he wishes them as it was an honour for every footballer to represent their country at an international tournament such as AFCON.
"You can try to plan it but you can never prepare it. It is not a worry because we have faith in the boys we have and a few boys are coming back as well. We know that certain players can play more offensively as well, they have been playing in midfield but they can play more offensively as well," he said.
His sentiments are in contrast to some clubs in Europe which wanted AFCON postponed over the rising Covid-19 cases and also the timing but CAF stood its ground.
Mane scored the opening goal for Liverpool before Egyptian Mohamed Salah doubled the advantage early in the first-half.
However, Chelsea found their way into the game when Mateo Kovacic and Christian Pulisic scored just before the end of the first-half.