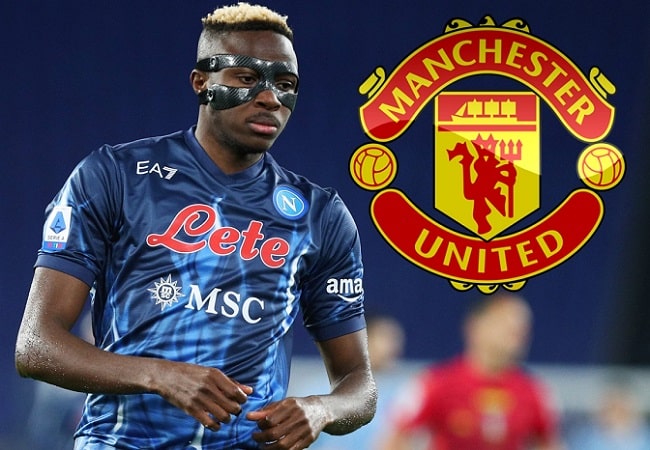 Manchester United are said to be interested in acquiring the services of Napoli striker Victor Osimhen this summer. The Nigeria international is apparently on their radar, with a big bid of 100 million euros being lined up. And if a transfer is to happen, it'll be a few years on from when the forward first had the chance to move to Old Trafford.
Also Read : MANCHESTER UTD MAKE RECORD-MAKING TRANSFER OFFER FOR NAPOLI'S OSIMHEN
Manchester United were linked with Osimhen back in the January transfer window of 2020.
Ole Gunnar Solskjaer, who was manager at the time, wanted the Red Devils to land a new marksman having missed out on Erling Haaland. In the end, United decided to sign Odion Ighalo instead.
Ighalo touched down from Chinese Super League side Shanghai Shenhua. And the Nigerian international scored four times during his first few months with the club.
Links to Osimhen continued, however, before the forward ended up joining Napoli instead.
And, speaking in September 2020, the player's older brother Andrew revealed the players turned down United out of respect for Ighalo.
"It is very true that Manchester United wanted Victor." He said.
"But he told me something like he had too much respect for Odion Ighalo to be competing for shirts with his senior colleague.
"My brother holds Ighalo in high esteem. And he just didn't see himself going to Old Trafford to battle for a striking role with the highest goal-scorer at the 2019 AFCON in Egypt."
Osimhen, in the time since, has enhanced his reputation. The Nigeria international scored 10 goals from 24 Serie A matches last term, clocking up three assists along the way.
And he's also outdone himself this time around, netting 12 goals from 23 league appearances.
Now, a move to United could be on the cards.
Ten Hag is eager to land a new centre-forward at the end of the campaign amid uncertainty over four strikers currently on the club's books.
Cristiano Ronaldo has delivered the goods this season, scoring 22 goals across all competitions.
But the Portugal international could depart United if, as expected, they fail to qualify for next season's Champions League.
Edinson Cavani is expected to leave on a free transfer, with clubs from Spain and South America interested.
Anthony Martial is likely to be sold, having toiled this term at both United and Sevilla.
And there's still no update on Mason Greenwood and whether the youngster will ever play for the club again.
Meanwhile, though United want a new striker, Jaap Stam recently implored the club to keep Ronaldo – and build around him.
"Well, the midfield of course, and the defence is very important." Stam told bettingexpert when asked about United's transfer priorities.
"When you're looking at the squad now, there are a few players I think you work around in building your team.
"That's Cristiano if you want to keep him.
"I think Bruno as well, in the midfield.
"I would keep Pogba, also there is a big discussion. But I think you need to use him in a certain way because I like him as a player and what he can bring."