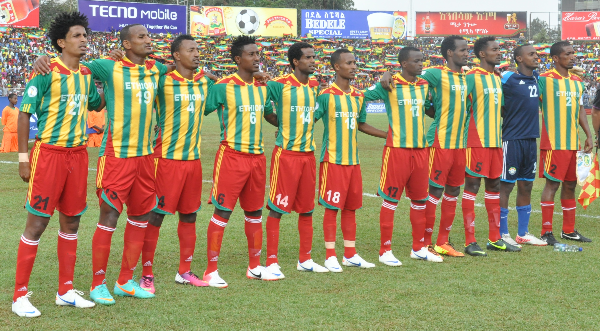 Ethiopia coach Wubetu Abate has named the squad for the 2023 Africa Cup of Nations (Afcon) Group D qualifiers.
Egypt-based attacker Shimelis Bekele of El Gouna FC is the only foreign-based player in the squad to face hosts Malawi on June 5 at Bingu National Stadium in Lilongwe.
Thereafter, Ethiopia will hang around in Lilongwe to welcome Egypt four days later in the group's second match.
The squad for Ethiopia will regroup in Addis Ababa to begin their preparations for the first two qualifiers.
Ethiopia and Malawi are eyeing back to back Afcon qualifications from the group which also comprises Guinea.
Ethiopia requested the Confederation of African Football to allow them to host Egypt in Lilongwe after the continental football governing body had banned Bahir Dar stadium, saying it was unfit.
Full Squad
Goalkeepers: Fasil Gebremichael (Bahir Dar City), Bereket Amare (Ethiopian Coffee), Dagim Ketema (Hawassa City), Seid Habtamu (Wolkite Kenema)
Defenders: Asrat Tunjo (Ethiopian Coffee), Remedan Yusuf (Wolkite Kenema), Henok Adugna (St George), Suleiman Hamid (St George), Birhanu Bekele (Hadiya Hosanna), Mignot Debebe (St George), Yared Baye (Fasil Kenema), Gite Gatuko (Sidama Coffee), Million Selemon (Adama City)
Midfielders: Amanuel Yohannes (Ethiopian Coffee), Gatoch Panom (St. George), Surafel Dagnachew (Fasil Kenema), Bezabih Meleyo (Fasil Kenema), Mesud Mohammed (Jimma Aba'Jiffar), Biniyam Belay (Defence), Wondimagegn Hailu (Hawassa City), Shimelis Bekele ( El Gouna FC/Egypt)
Forwards: Amunel Gebremichael (St. George), Cherinet Gugsa (St George), Dawa Hotessa (Adama City), Bereket Desta (Fasil Kenema), Abubeker Nasit (Ethiopian Coffee), Yigezu Bogale (Sidama Coffee), Habtamu Tadesse (Hadiya Hosanna)