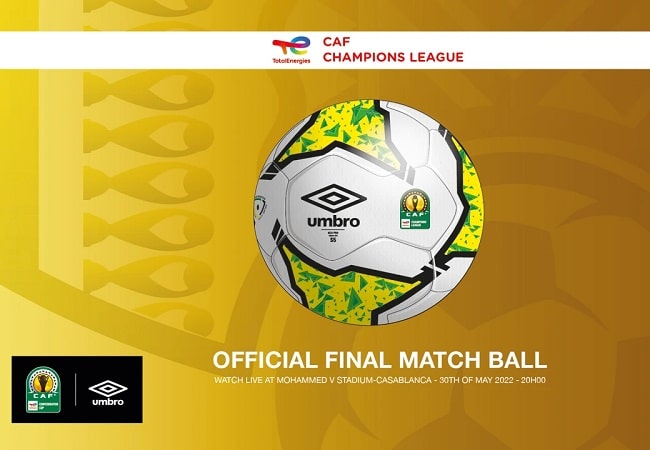 Africa's finest clubs, Al Ahly and Wydad Athletic Club will meet on Monday evening, 30 May 2022, for the TotalEnergies CAF Champions League final. The clash will kick-off at 19h00 GMT at Mohammed V Stadium.
Also Read : AL AHLY COACH HAILS FEFEREE APPOINTED FOR CAF CHAMPIONS LEAGUE FINAL
On Tuesday, Umbro, the CAF technical sponsors, revealed the official match ball to be used for the match.
The stylish minimalism of the Umbro's flagship Neo Pro football has been enhanced with a striking geometric graphic inspired by the triangular elements of the African Champion Clubs' Cup in bold colours that reflect the vibrancy of football on the continent. 
Also Read : UMBRO AND TIKTOK TO BUILD AFRICAN FOOTBALL IN PARTNERSHIP WITH CAF
The 14-panel hand-stitched professional football has been designed with a textured Tejin microfiber casing for durability, accuracy and dependable aerodynamics, along with a layered construction and latex bladder for consistent bounce, air and shape retention; and bears the 'FIFA Quality Pro' designation.
"A premier ball for Africa's premier interclub tournament." Commented Nicole Marcus, Production Manager at Umbro South Africa.
"The TotalEnergies CAF Champion's League brings together the very best of African club football to compete at the highest level. And we wanted to create a ball that captures the spirit of the tournament – the colour, the excitement, and the celebration of an incredible interclub season."
Also Read : CAF UNVEILS OFFICIAL MATCH BALL FOR THE CONFEDERATION CUP FINAL
The official match final ball is the third tournament ball released by Umbro in 2022, alongside 'Toghu', official ball of the Africa Cup of Nations, and the bespoke match ball created for last weekend's CAF Confederation Cup final.