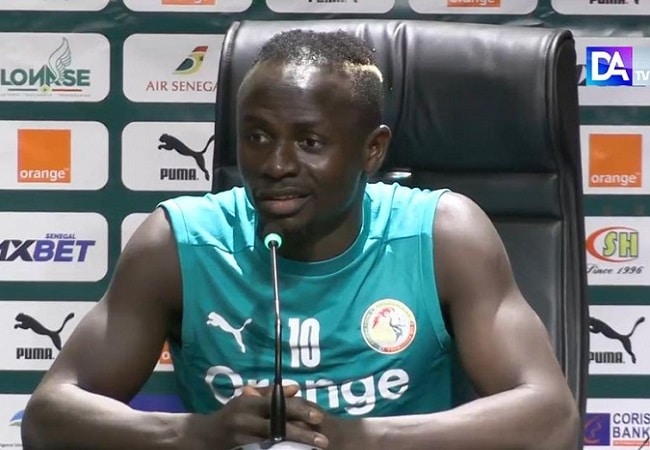 Sadio Mane promised an update on his Liverpool future after the Champions League final. But the Senegalese forward still hasn't made a concrete decision.
"Isn't it 60 to 70% of Senegalese want me to leave Liverpool? I will do what they want. We'll see soon". The 30-year-old said speaking with the media whilst on Senegal duty.
It's still a mystery as to where Liverpool No.10 will be playing next season. But Bayern Munich continues to be a team that he is closely linked with.
Whether it comes down to a bidding war, reluctantly allowing the attacker to leave, forcing him to stay or a new contract – this all doesn't show signs of stopping soon.
Also Read : SADIO MANE SENDS SPECIAL MESSAGE AHEAD OF CHAMPIONS LEAGUE FINAL
It would be nice to hear exactly what the former Southampton man wants to do. But his next future decision is still pending.
'…Other than that, I'll say… I often read on social media like everybody, as the new generation does…
And sometimes I see and read the comments that you guys all make, journalists and the great public…
And it seems like 60 or 70% of the Senegalese want me to leave Liverpool Fc (he sarcastically smiles); Don't they? Isn't it what you all want?
Ok I'll do what the Senegalese people want (still with sarcasm and a big smile). Don't worry for that ! Don't be in a hurry. Be patient and just wait and see!'
Sadio Mane has bagged 120 goals in 269 games for the Reds since he arrived on Anfield. But last weekend's defeat against Real in Paris could now be Mane's Liverpool swansong.
Although Mane is seemingly ready to quit the club this summer, his Reds colleague Salah has ruled out a move. The Egyptian forward is also yet to pen a new deal with the club. But he has confirmed that he will still be a Liverpool player next season.
Defending champions Senegal will begin their journey for a spot in next year's tournament at home against Benin on Saturday at the newly built Stade de Abdoulaye Wade in Diamniadio with Liverpool start Sadio Mane expected to lead the game.