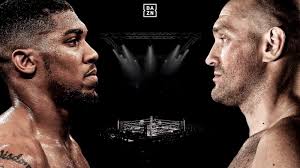 Prior to a probable fight on December 3, Anthony Joshua's team has revealed that they have accepted the conditions presented by Tyson Fury's side.
On social media, Joshua's 258 Management and Matchroom announced that contact had been put on hold as a result of Queen Elizabeth II's demise and that they were still waiting for a response.
The promoter of Fury, Frank Warren, later said, "Contract will be with you very shortly."
After learning that a potential undisputed fight against Oleksandr Usyk would probably have to wait until 2023, Fury recently challenged Joshua to a long-awaited all-British fight and offered the two-time world champion a 60-40 payout.
The battle might perhaps take place on November 26 at Wembley or December 3 at Cardiff, according to the 34-year-old at first.
The Gypsy King celebrated his return to the UK by knocking out Dillian Whyte in the sixth round at Wembley in April.
He then reiterated his intention to retire before telling the WBC at the end of the previous month that he intended to pick up boxing again.
Joshua, who lost to Usyk by split decision in their rematch last month, debuted this week at No. 6 in the WBC rankings.
Prior to an arbitration judge's decision that Deontay Wilder was legally entitled to a third fight against Tyson Fury, which the American heavyweight would later lose by 11th-round knockout, the two had been scheduled to face off in August 2021.
Following his loss to Usyk, Joshua has shown interest in a future fight with Dillian Whyte, while Fury recently faced Mahmoud Charr, a 37-year-old former WBA regular champion.
Fury expressed interest in a potential crossover fight with UFC heavyweight champion Francis Ngannou after his victory over Whyte, but it was at a time when the latter was adamant he intended to retire from the sport.
With former world champion Wilder, ranked No. 1 in the WBC ratings, set to fight Robert Helenius in an eliminator and Andy Ruiz Jr., ranked No. 2, fresh off a valiant victory over Luis Ortiz, ranked No. 2, Fury currently has no mandatory challengers in place.