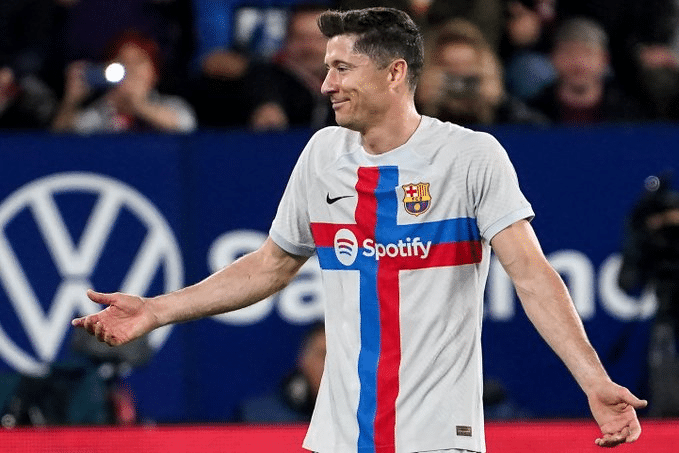 For "disrespect" toward a referee, Barcelona striker Robert Lewandowski has been given a three-match LaLiga suspension.
He will serve this suspension once Spanish domestic football resumes after the World Cup.
On November 8, after receiving two cautions against Osasuna, the Polish striker made a gesture by touching his nose and leaving the field that was viewed as rude to the referee, Jesus Gil Manzano.
The striker received a two-match suspension in addition to the statutory one-match ban for displaying "an attitude of contempt or disrespect" toward the referee, the Spanish FA stated in a statement on Wednesday.
With 13 goals, Lewandowski leads the league in scoring but will miss the derby against Espanyol as well as games against Atletico Madrid and Getafe.
"It's funny, because the gesture was for Xavi, not for the referee," said Lewandowski last week at a ceremony where he received the Golden Boot for finishing as Europe's top scorer last season at Bayern Munich.
"Last week, I think, we already talked about being careful if we were booked, because something like that could happen, and, in the end, it did.
"It's my fault, I got two yellow cards, but the gesture was for (Xavi)."
Barcelona said that they would contest the suspension later on Wednesday.
Despite receiving a four-game suspension for criticizing the referee while sitting on the bench, Gerard Pique, a Spanish defender, has retired from the game and will not serve it.
After 14 games, Barcelona is two points ahead of the defending champion Real Madrid at the top of the standings after coming from behind to win the game 2-1.
In a recent 1-1 tie with Girona, Carlo Ancelotti, the coach of Real Madrid, said the referee "manufactured" a penalty against his team.
The Italian coach explained that the remark did not refer to trickery but rather that a penalty had been awarded that shouldn't have been.
Ancelotti might have been suspended for up to four games if he had received a penalty.
End of December marks the start of LaLiga.