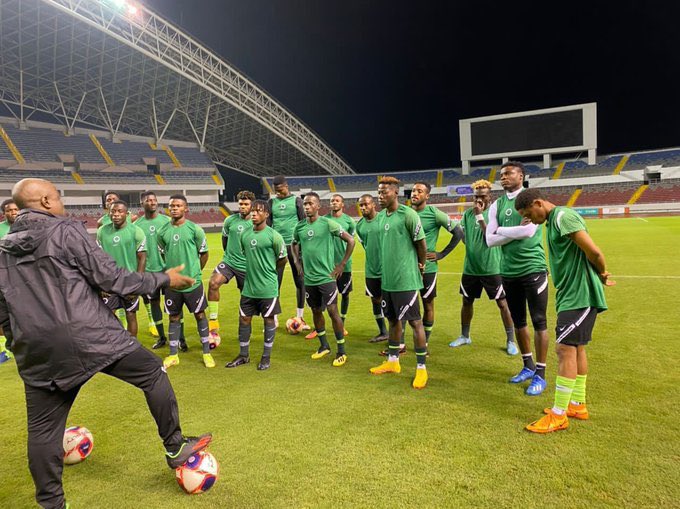 The Nigeria U23 Eagles team is starting to take shape as five players with overseas bases participated in the training session on Sunday night at Moshood Abiola Stadium's Training Field 1.
The training session, which started at 4:00 pm, ended at 6:20 pm.
When they enhanced their games during the training session, their entrance made the coach sigh with satisfaction and brought out the best in the invited home-based players.
Today at 3:00 PM, the team will conduct its first practice on the field of Moshood Abiola Stadium.
Salisu Yusuf, the U23 Eagles' head coach, told BSN Sports that four of the other invited players would be joining the team today.
He also mentioned that Gift Orban, a striker for Gent, might not accept the offer to make his Nigerian debut.
"We have been working hard in the last ten days and now we have professional like five.
"So, I think the team is beginning to be taking shape, Salisu Yusuf exclusively told BSN Sports.
 "We have only five players in camp and we know four players are coming tomorrow (Monday) that we are sure of.
"You know some of these players have match today (Sunday). 
He expressed his fear on Gift Orban not honouring the invitation.
"Yeah, we sent invitation to Gift Orban. I think I scouted him since he was playing for his former club before he joined Gent.
"I think he is doing very well. We sent invitation and up till now, we are yet to receive any positive response from his club.
"I am not sure he is coming because up till now there is no news neither from him nor his club on whether he is coming tomorrow but we knew that the invitation has reached his club.
In the CAF U23 African Nations Cup qualifier on Wednesday at the Moshood Abiola Stadium Abuja at 4:00 pm, the Nigeria U23 team and the Guinea U23 national team will trade tackles. The second leg will take place a few days later.
Winners of the two matches will advance to the 2023 CAF U23 African Nations Cup finals, where nations will choose the athletes who will compete in the 2024 Olympics.