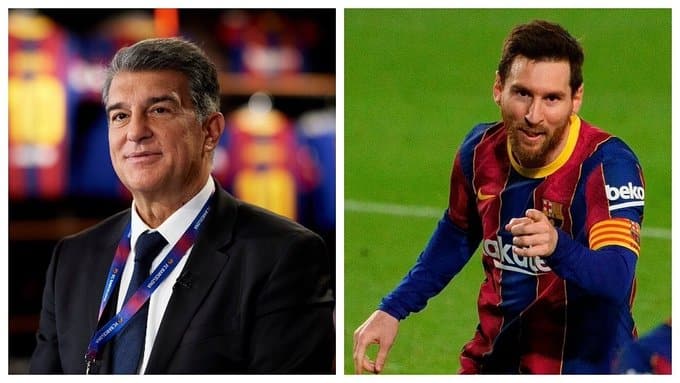 Barcelona's president, Joan Laporta, declared on Monday that the team would "do everything possible" to re-sign Lionel Messi during the off-season.
The forward for Paris Saint-Germain is expected to leave when his contract expires in the summer, and Barcelona, the current LaLiga champions, are trying to entice their all-time leading scorer back despite intense interest from Saudi Arabia.
After a spectacular period at Barcelona, where he won four Champions League and 10 LaLiga titles and is still revered by the fans there, Messi has had two underwhelming seasons in Paris.
In an effort to mend the friendship between them that was harmed when he left in 2021, Laporta claimed he has spoken with Messi.
Messi wanted to continue at Barcelona, but due to debt of more than one billion euros ($1.1 billion), the team could not afford to keep him.
"I have spoken to Leo to somehow redirect a situation that occurred, in which I had to put the club ahead of everything, even him, who is the best player in the world," Laporta told Catalan regional public television station TV3.
"The truth is that it was a very affectionate conversation, very pleasant, and we have also been sending each other messages lately – I congratulated him on the World Cup."
After Barcelona defeated Espanyol 4-2 to claim LaLiga on Sunday night, Laporta declared on Twitch that "we will do everything possible" to sign Messi.
Speaking to TV3, he was more circumspect.
"He is a Paris Saint-Germain player and what we will do is improve the team in all areas, we have already worked on that," said Laporta.
"I think it would do me a disservice to talk about these questions about Leo, because he belongs to a team like Paris Saint-Germain, and we have to wait until the end of the season, until it is over, and then we can talk more calmly about this."
Sources said the Argentine captain is close to a deal to move to Saudi Arabia next season.
Laporta asserted that Barcelona could compete for Messi's services despite the alleged 400 million dollars in annual compensation on offer in the Middle East.
"With all due respect to Saudi Arabia, Barca is Barca, and it is his home," added Laporta.
"We can compete with everyone. History backs us, the feelings are too strong, we have 400 million fans around the world too."
Barcelona needs to save more than 200 million euros or generate new revenue in order to be exempt from constraints under the LaLiga financial fair play regulations.