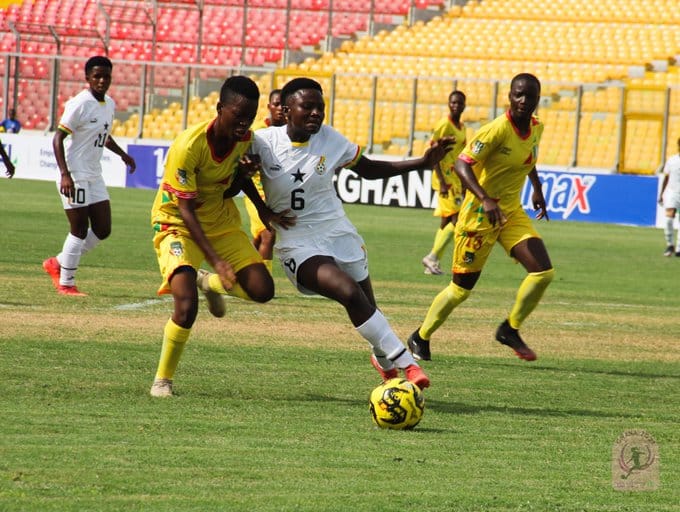 The Black Princesses, Ghana's U-20 women's squad, opened the inaugural WAFU B U-20 Girls Cup of Nations with a strong performance, defeating Benin 3-0 on Saturday at Kumasi's Baba Yara Stadium.
It was evident from the beginning of the Group A match that Benin would have a difficult time coping with their Ghanaian opponents on all fronts.
The Black Princesses had a chance to grab the lead right away from a free kick in the seventh minute, but Benin goalkeeper Ahouefa Godoui made an incredible save to save Stella Nyamekye's strong attempt.
Unfazed, Ghana kept up the pressure, and it paid off in the 35th minute when Maafia Nyame took advantage of their aggressive forward play to break the scoreless tie.
Saoudatou Imorou, Kadidjatou Imorou, and captain Mahugnon Zinsou commanded Benin's defense, which battled all game long.
The Black Princesses continued to attack relentlessly in the second half. With a perfectly placed header following a lovely cross from Wasima in the 58th minute, Helen Alormenu nearly increased Ghana's advantage.
Despite Benin's tenacity, Mary Amponsah scored in the 61st minute to further tighten Ghana's hold on the match.
With a powerful free kick from the edge of the box in the 68th minute, Stella Nyamekye gave Ghana a 3-0 lead and secured a convincing victory.
This thrilling first game sets the tone for what looks to be an exciting tournament, displaying Ghanaian football's dominance and generating anticipation for the next games.
Teams from Nigeria, Cote D'Ivoire, Burkina Faso, Togo, Benin, and Niger compete in the WAFU B U-20 Girls Cup of Nations, which offers a stage for showcasing the enormous ability and promise of young female football players from the West African region.
On Sunday, matches at the tournament continued with Nigeria playing its neighbors, Niger, in Group B, and Burkina Faso playing Togo in group play.