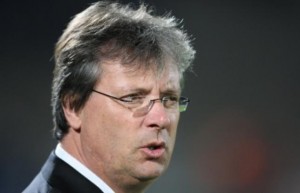 Afcon U20 approachs. It will take place from March 16 in Algeria. The coach of the national team under 20 years of Algeria, the French, Jean-Marc Nobilo has unveiled the 21 players selected for the competition.
Algeria, the host country of this competition, wants to impose on its soil. It will play in Group A alongside Benin, Egypt and Ghana.
Group B is composed of Gabon, Mali, Nigeria and DR Congo.
Selected players:
1. Aiyoub Belabes (U.S. Quevilly, France)
2. Sofiane Kacem (AC FAF)
3. Nassim Torch (AS Lyon Duchère, France)
4. Hichem Aoulmi (AC FAF)
5. Ayoub Abdellaoui (AC FAF)
6. Mokhtar Toumi (Montpellier, France)
7. Redouane Cherifi (AC FAF)
8. Mohamed Amin Madani (AC FAF)
9. Mohamed El Amine Barka (AC FAF)
10. Nazim Aklil (AC FAF)
11. Abderrahmane Saighi (AC FAF)
12. Abderrahmane Bourdim (AC FAF)
13. Mohamed Benkhemessa (AC FAF)
14. Abderrahmane Ensaad (AC FAF)
15. Djamel Belalem (AC FAF)
16. Kenzi Zenadi (CS Sedan, France)
17. Mohamed Benkablia (AC FAF)
18. Bilal Wali (Stade Reims, France)
19. Thomas Izerghouf (Rennes, France)
20. Zakaria Haddouche (ASO Chlef)
21. Zinedine Ferhat (USM Alger)