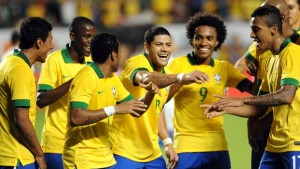 On the sidelines of the friendly match against South Africa in the context of the FIFA day on March 5, coach Luiz Felipe Scolari has released the list of players who evolve outside Brazil.
The coach champion of World Cup with Brazil in 2002 did not include midfielder Kaka of AC Milan, Parisians Maxwell and Lucas. He, in contrast trusted David Luiz, Thiago Silva, Hulk and Neymar.
Three other players, playing in Brazil, will be called later. "In principle, two forwards and a guardian," said the coach in a press conference. This is the last call before the list of twenty-three for the 2014 World Cup to be disclosed on May 7.
The Brazilian group:
Júlio César – Thiago Silva, David Luiz, Dante, Dani Alves, Rafinha, Marcelo – Luiz Gustavo, Paulinho, Fernandinho, Ramires, Oscar, Willian – Hulk, Bernard, Neymar