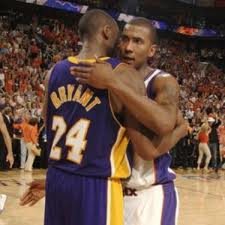 The two enemies, Kobe Bryant and Band Raja Bell Utah Jazz No 10 could come under the same jersey after Adrian Woknarowski  (sports columnist) reports.
In fact, with the arrival of Mike D'Antoni at the head of Lakers, they have shown renewed interest in the defender of Jazz. The Lakers had already looked at the Bell case, but the arrival of Mike D'Antoni, who coached in Phoenix seriously, would boost the track.
However, the Lakers face a concern regarding their payroll.
With 30 million over the salary cap, cut a player, pay his salary and Bell plus tax is something they are reluctant to do.
For several weeks they have tried unsuccessfully to get rid of the bench players to create space in their workforce. However, the Jazz is ready to make a buyout if Bell finds a team that pays him the minimum wage.
The Jazz would pay the difference on $ 3.5 million remaining on his contract for the 2012-2013 seasons.
Bell, 36, could provide defense on the perimeter which is not a luxury. Finally his enemy Kobe Bryant, 34, was for his recruitment this summer, Bryant knows very well the qualities of the former Sun.