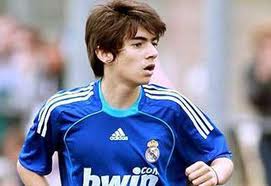 After training several times with the actual pro Real Madrid,  Zizou's son shows he has talent and audacity.
Born in Bordeaux, March 1995, Enzo plays for real Madrid as his father. The young Zidane scored the minds with a goal quite magnificent, this splendid goal registered with Castilla 20 meters against Atletico Madrid (5-2).  A shot that touches the bottom of the cross and leaves no chance to the goalkeeper.
Everyone says that the young Zidane is growing in a very beautiful way, the young No. 10 was also expelled late in the game.
The young prodigy follows his father's footsteps.
Jr. Zidane has excellent ball control, superb technique, a quick decision and a great vision of the field. These qualities he is very reminiscent of his great father.
The young talent has a fantastic blow and can create a space anywhere on the field.
He inherited the famous even Zidane feint – Roulette, also known as «Snail Zidane».
They say children of the great nature rests.
However, in the case of the Enzo this saying has all chances to fail. The guy is very talented and is the best of all possible hands. In the hands of Zinédine Zidane and Jose Mourinho.
For the few past days, journalists have been wondering if he will choose French or Spanish Nationality (as his mother).