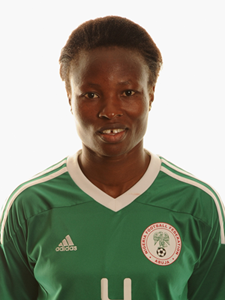 Perpetua Ijeoma Nkowcha is a Nigerian female professional footballer  born on January 3, 1976.
She does currently plays for Swedish Damallsvenskan club Sunnanå SK. She is also a member and the captain of the Nigeria women's national football team.
The female midfielder is as tall as 1.80 m.
Journey
Sinse 2000: She took part in all the major African Competition with the Nigerian female national team.
2004 and 2008: Summer Olympic Games
Palmares
-Winner of the African Championships in 2002, 2004, 2006 and 2010.
-African female footballer of the years 2004, 2005, 2010 and 2011.
-Best African female footballer in the African Championship in 2004.
In June 2008, the BBC reported that Nkwocha had announced her plans to retire in two years, and that after doing so she wants to continue to be involved in football by becoming a coach.
[youtube]http://www.youtube.com/watch?v=F_VbR4AO640&feature=player_embedded[/youtube]
[youtube]http://www.youtube.com/watch?v=WA_N0CVFy7k&feature=player_embedded[/youtube]