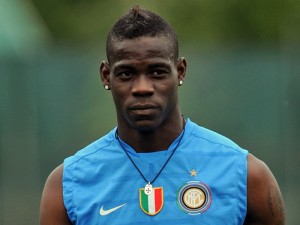 The Winter Mercato is on its way.
And if Mario Balotelli was shaking the transfer market according to Il Corriere dello Sport, the striker of Manchester City appears on the small papers of AC Milan.
No single day passes without a notice for Mario Balotelli, Italian from Ghanean descent. And this week, he did so.
On the stadium firstly, the transalpin international made a difference by scoring his very first goal of the season in Premier League.
He participated a lot in the victory of Manchester City on the stadium of Wigan.
However, the striker is leaving Manchester City. This is quite an evidence for everybody since the relationship between the player and the coach is not quite stable.
Christmas is not close to large, Silvio Berlusconi decided to play the Santas by offering a good gift to the tifosi : Mario Balotelli.
The Inter Milan where he evaluated from his beginnings is not willing to bring him back according to the president of the of the club, Massimo Moratti who seems to give up the option he held on the player preventing his sale in case of equal offer.
So according to Corriere dello sport, the historic rival , AC Milan thinks to benefit by wrenching the signature of  "Super Mario". Silvio Berlusconi himself would be ready to intervene in the negotiations in order to obtain a loan with purchase option.
Fan of the club with 18 Scudetti since his childhood, Balotelli will never think bad of coming back home.