an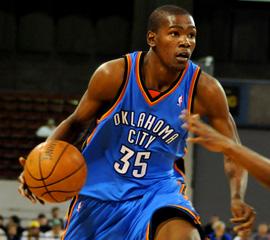 Kevin Durant doesn't always like to talk about himself, but he is interested in discussing the evolution of his game, which by the way, he has patterned after NBA great Larry Bird
It's late November, and the fact that the wool beanie that sits on top of Kevin Durant's head is there more for fashion than functional purposes means it is still too early in the season to delve into such matters.
But as the Oklahoma City Thunder star sits back in his chair at the team's practice facility, his expression having grown longer than those outstretched legs when the conversation turned backward instead of forward or tried to look too far ahead, the topic of his own evolution is more than enough to get him excited again.
Enough with the questions about why he's so happy here in a day and age when NBA stars flock to big cities, or how he's been able to build a booming global brand in the country's 49th largest market.
Enough with the Finals loss to Miami that still pains him but has also changed him.
Enough about the James Harden trade that hasn't kept the Thunder from getting off to an impressive 15-4 start and he swears doesn't change the end game of winning it all here.
And last but certainly not least, enough with the questions about Russell Westbrook and whether their styles can co-exist on a championship club.
Six years in, and the 24-year-old who is already on his way to becoming an all-time great just wants to talk about his growth and the game. With Durant, an old-school star who is changing the school of thought about NBA stars and whether they can shine in small markets, it's always about the game.
"My game, I just want it to keep evolving," Durant told USA TODAY Sports. "I've been more focused on being a better leader, and that's just getting everything I can out of everybody on the floor…That's the stuff that ignites me. I know the importance of winning, and I know what it takes to win."
The frightening proposition for the league now is that he's already dominating with such ease and grace, this reality that he's still getting better, more well-rounded, and more dangerous by the day.
Through 19 games, and with the major adjustment that came with swapping Harden for Kevin Martin in the late-October deal with Houston that so many thought would slow the pace of this small-market story, Durant is posting career high averages in rebounds (8.5 per game), assists (4.4), blocks (1.6) and steals (1.6).
And while the scoring of the three-time scoring champ is down marginally in total production (26.5 per game thus far this season as compared to 28 points per game last season), it's only because he's so busy getting better in every other part of his game.
As evidenced by career-high percentages from the field (51.4), three-point range (45.5) and from the free-throw line (90.3), Durant has never been more efficient, more impactful, than he is now.