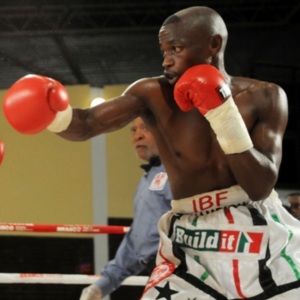 Nkosinathi Joyi says he expected stronger resistance from Walter Rojas, who was stopped in the first round of their interim WBA mini-flyweight title contest in East London on Saturday night.
Joyi, a former IBF minimumweight champion, did not raise a sweat, dispatching the Argentine with a technical knockout victory. He landed a number of blows which decked Rojas, and while the Argentine beat the count, his corner threw in the towel.
"I didn't expect this fight to be one-sided and to end quickly, though I knew I was going to knock him out," Joyi said.
"Truly speaking, I still wanted to continue with the fight, but the guy was not fighting."
The Mdantsane-born southpaw said he would discuss his future plans with promoter Siphatho Handi.
"My aim is to fight for the WBA title and show people that I'm still one of the best in the world."
Meanwhile, newly-crowned WBF junior-welterweight champion Zolani Marali believed justice had been done as all the judges gave him the nod after his rematch against Ali Funeka in the main supporting bout.
There had been a controversial split decision when Funeka defeated Marali to lift the crown in Johannesburg last year.
"I'm very happy to have won this fight. I knew I beat him last year but my mistake at the time was fighting him from the ropes," Marali said.
"I made sure that I landed more punches today and won this fight."