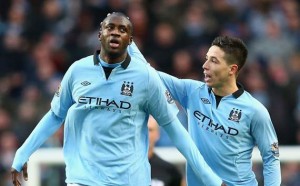 Yaya Toure is confident the Premier League title race is far from over after Sunday's derby defeat left Manchester City six points off the pace.
Toure was responsible for City's first goal at the Etihad Stadium in what seemed like would be a memorable comeback from 2-0 down to finishing level.
However, Robin van Persie rendered the home side's hard work inconsequential with an injury-time free-kick for United.
Toure described Van Persie's late winner as "a dagger to the heart" but has called on the Citizens to show their mettle and fight to retain their league crown.
 "The title race is not finished anything but," the midfielder told the club's official website.
 "We will continue to give United problems in the league and at the end of the season I hope we will win it again.
"We thought we would win the game when we made it 2-2, but United have great experience and Wayne Rooney was fantastic for them.
 "It was a dagger in the heart to concede a third so late in the game, but it was a fantastic game for the fans, and that is why I like the Premier League so much. It is the toughest league in the world.
 "Last year was fantastic, but we have to realise that sometimes you go through tough periods we can turn this around. When the chips are down, that's when the tough really get going and we will show why we are champions."