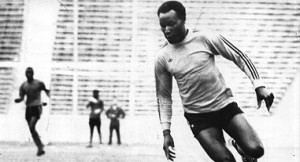 Obviously and contrary to what is said, Lionel Messi is not the best footballer in the world.
If he happened to break away the records of Pelé and Gerd Muller, it is not sure that he broke that of tha Zambian Godfrey Chitalu. The striker is said to have held a yearly record of goals up to 107 achievements in 1972. Please!
Since Tuesday, the Zambian Football Federation recommended a team of archivists to find traces of the record of the former Chipolopolo. Chitalu five times best footballer of Zambia firstly scored 81 goals for his club Kitwe United, until four years later or the same year that Muller to score 107 times in all competitions. Single false note, his record has never been approved by FIFA.
A fight that decides the Zambian Football Federation to conduct. "We have got the record that was registered in Zambia but not found in the archives of the FIFA. We are working on to see if we can find it, "said an official of FIFA archives.
Chitalu stopped his career in 1982, honored with the "Award of Merit for a career" by FIFA. He  later became coach of Zambia, before being killed in a plane crash in 1993. With a golden generation of footballers in Zambia.
Ready also:
http://en.africatopsports.com/2012/12/11/the-worry-of-the-day-i-wonder-if-messi-does-not-get-doped/
http://en.africatopsports.com/2012/11/25/football-superman-messi-nears-mueller-goals-record/