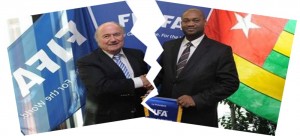 Gabriel soon unmasked? Controversial since his arrival at the head of Togolese football, the president of the Togolese Football Federation has been chaining bad news. Back to the wall since the announcement of the withdrawal of Emmanuel Adebayor from the national team on a matter of unearned premiums during a friendly match, Améyi can be seen waving above his head like the sword of Damocles, this time with FIFA.
Mail, "personal and confidential" dated October 31, addressed to him by the world body has leaked to the press in Togo and is fodder for sports writers since the beginning of the week.
FIFA has suspended its financial assistance to the FTF after the latter has failed to provide evidence on spending funds on behalf of the 2012-2013 season. This rating was based on the presence of  FIFA in Lomé  after a mission t in October. Extracted from the mail.
"The partial review of accounts for the period ranging from April to September 2012 reveals that many expenses unrelated to the objectives of the project were made: management fees of the national team when you receive other grants to do this, your own transportation as well as members of the Executive Committee abroad, telecommunications costs and exorbitant power, handling and fuel personal vehicles or even significant advances to the staff of FTF members of  your(Works, ed) or to yourself without proper justification or reasons ."

Read also:
http://en.africatopsports.com/2012/12/11/gabriel-ameyi-adebayor-will-be-present-the-the-2013-afcon/
http://en.africatopsports.com/2012/12/03/togo-crisis-with-the-national-team-on-the-eve-of-afcon/
http://en.africatopsports.com/2012/11/26/togo-adebayors-truth-about-the-president-of-togolese-football-federation/