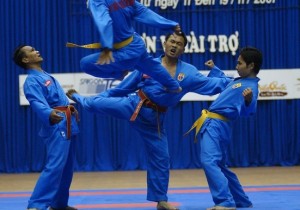 Algiers houses from 14 to 15 December 2012 the African Cup of Vovinam Viet Vodao. The competition brings together eighty (80) athletes representing six African countries (Mauritania, Senegal, Côte d'Ivoire, Morocco, Algeria and Burkina Faso). Algeria, the host country, aligns 32 athletes.
The majority of the Algerians are in their first participation in a major mainland competition. The best of the competition will participate in the World Championships of the  discipline which are to be held in July 2013 in France.
"We will participate in the African games with athletes, experienced, whose sole purpose is to represent the country with dignity, winning all the medals made in the program of this event," said Mohamed Djouadj, president of the League of Algiers .
The Confederation of African Martial Arts "aims to structure this discipline throughout Africa in order to enroll it in the calendar of upcoming African Games,
" said Mohamed Djouadj to APS.